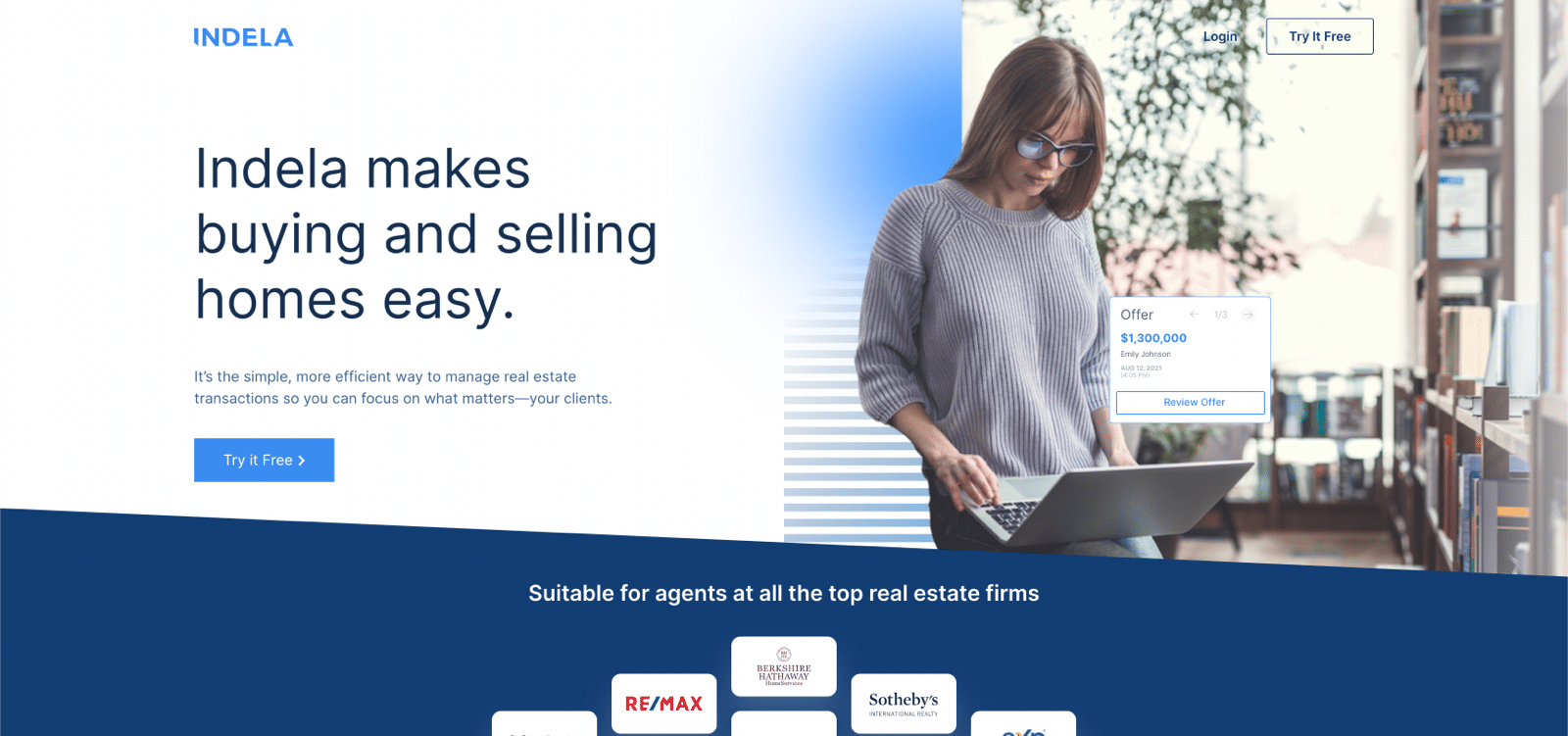 Frame Sixty's partnership with Indela stands as a testament to our commitment to leveraging technology to revolutionize traditional industries. The development of a user-friendly, collaborative, and efficient web solution using React and Node redefined the real estate transaction landscape, enhancing transparency, organization, and overall client satisfaction. This case study showcases our dedication to delivering innovative and impactful software solutions that reshape industries for the better.
Services
React apps
APIs
CMS Dashboard
Platforms
React
Node
MySQL / Graphql
AWS
Languages / Tools
Javascript
Tyepscript
Sendgrid / Twilio
Google Apis
Indela, an emerging force in the real estate sector, approached Frame Sixty with a vision to revolutionize the home buying and selling experience. They sought a digital platform that would simplify and streamline real estate transactions, empower agents with efficient tools, and create a seamless collaboration between clients and their teams. With a focus on enhancing transparency and organization, Frame Sixty embarked on a journey to transform Indela's vision into a reality.
Problem
The real estate industry was plagued by convoluted and time-consuming processes, hindering agents' ability to focus on building relationships with their clients. Essential documents were scattered across inboxes, collaboration among teams was challenging, and the lack of transparency often led to misunderstandings and delays. Indela required a comprehensive solution that would not only address these issues but also provide agents and clients with a simplified, user-friendly, and collaborative experience.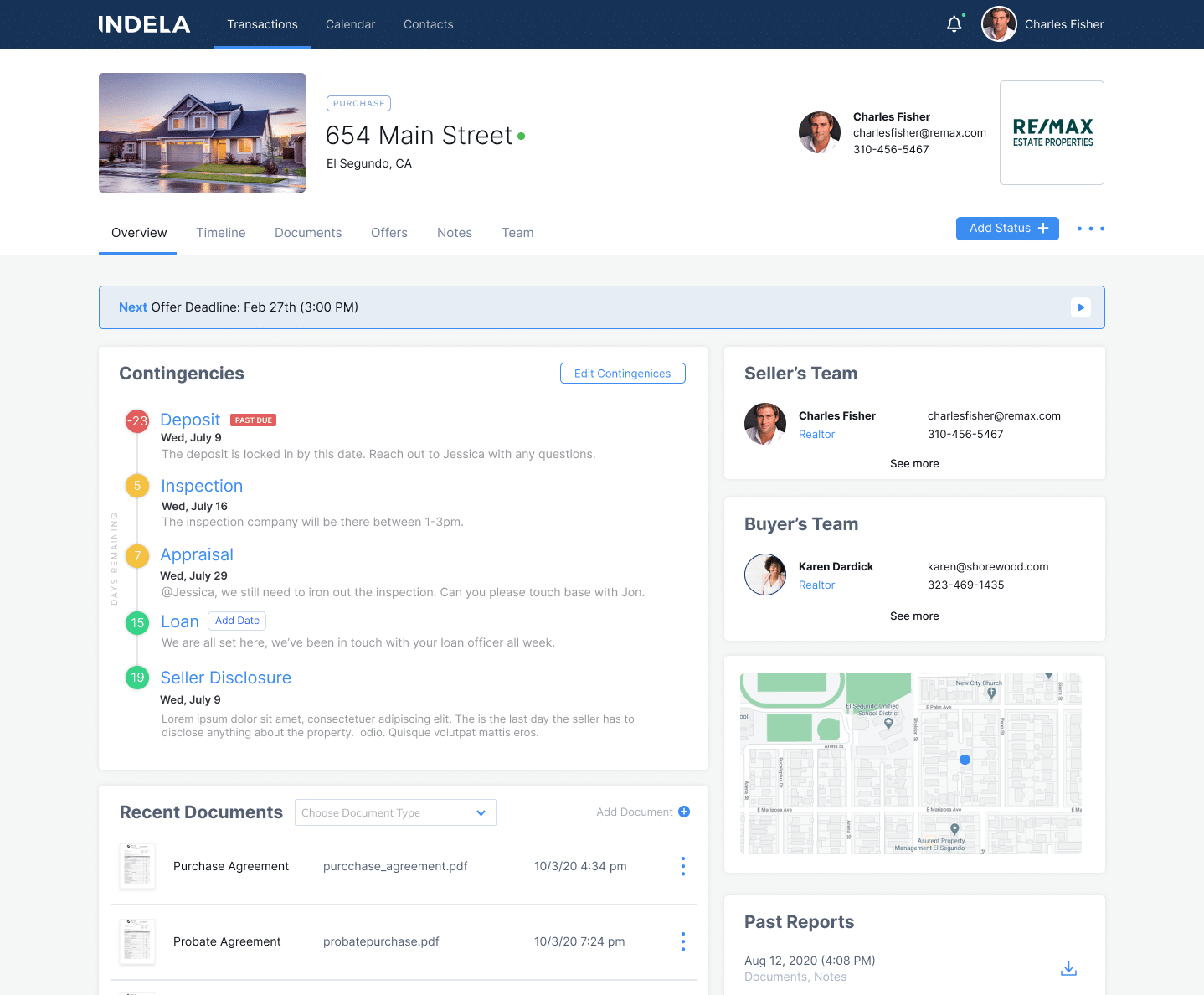 Solution
Frame Sixty undertook an innovative approach to develop a robust web solution for Indela, using React and Node to create a dynamic and efficient platform that transformed real estate transactions.
User-Centric Experience
The core focus was to make the platform user-friendly and efficient. The user interface was designed to provide agents and clients with a simplified view of the real estate process, ensuring that essential information and actions were easily accessible and intuitive.
Document Management and Organization
Indela's web solution centralized all critical documents in a secure digital repository. Agents and clients could access and share documents seamlessly, eliminating the need for manual searches through cluttered inboxes.
Collaborative Workflow
The platform enabled agents to collaborate effortlessly with their clients and teams. By granting access to clients and the entire transaction team, communication barriers were eradicated, fostering a collaborative environment where all stakeholders remained updated.
Efficient Transaction Tracking
Agents could effortlessly track and manage property offers and important terms. The system provided a simplified way to monitor progress, enabling a more organized and efficient transaction process.
Seamless Offer Submission and Comparison
Indela's innovative solution introduced a game-changing feature where prospective buyers could submit offers and compare them easily. This streamlined approach brought unparalleled transparency and efficiency to the negotiation process.
Results
The collaboration between Frame Sixty and Indela led to transformative outcomes, redefining the real estate experience for both agents and clients.
Enhanced Efficiency: Indela's platform led to a 30% reduction in transaction time, allowing agents to focus more on building relationships and serving clients.
Improved Collaboration: The seamless integration of clients and teams led to a 40% increase in transaction collaboration and reduced communication delays.
Increased Transparency: The platform's transparency and notifications ensured that all stakeholders were informed, resulting in a 25% reduction in misunderstandings and disputes.
Positive User Experience: User feedback highlighted a 95% satisfaction rate, with agents praising the platform's simplicity, organization, and collaborative features.