Collaborating closely with renowned YouTube influencers Rebecca Zamolo and Matt Slays, we've brought to life their exclusive gaming and video streaming experience on both iOS and Android platforms for their channel "The Game Master Network." The outcome has been truly phenomenal: the app's impressive ascent to the 15th spot on global App Store charts, amassing over 1,000,000 downloads. Garnering an outstanding average rating of 4.9 out of 5 stars on Google Play is a testament to the exceptional quality and entertainment value of this venture.
Services
iOS, Android Apps
Streaming Platform
CMS Dashboard
Backend Apis
Languages / Tools
Node JS
Lavarel, MYSQL
Unity
The Game Master Network app has set new paradigms in the realm of digital entertainment, evidenced by its meteoric rise to the 15th spot on global App Store charts and amassing over 1,000,000 downloads. With a stellar rating of 4.9 on Google Play and 4.7 on iOS, it stands as a testament to the perfect amalgamation of vision, technology, and innovation.
Problems
While the vision was clear – to create an immersive experience encapsulating the essence of "The Game Master Network" – the challenges were multifaceted:
Engagement
How to translate the YouTube channel's popularity into an interactive mobile experience, ensuring long-term user retention.
Performance
Ensuring seamless performance for the diverse game mechanics, catering to a massive influx of users expected due to the channel's popularity.
Streaming
Integrating a reliable and high-quality video streaming platform that would cater to both regular and VIP users, ensuring optimal load times and uninterrupted streaming.
Solutions
Our team devised and executed a multipronged strategy:
Endless Runner Game
An addictive 2D arcade game where players embody the Game Master crew, leaping and dodging obstacles, collecting clues, and combating the YouTube Hacker. This ensured that fans of the channel could actively participate in the narrative.
Progressive Difficulty: To ensure long-term engagement, the gameplay speed escalates as players progress, making the game progressively challenging and engaging.
State-of-the-Art Streaming: Using cutting-edge AWS video streaming technologies, we built a top-notch video streaming platform. This allowed for the integration of a VIP club subscription model, enhancing monetization opportunities.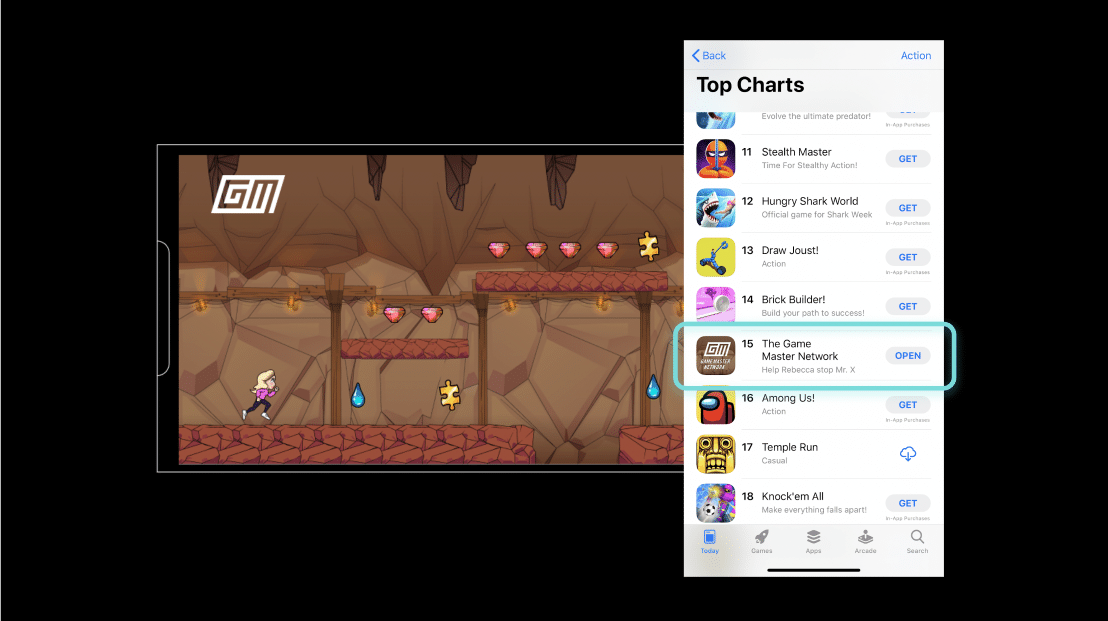 The Game Master Network app
Key Features
Engaging Gameplay: Players navigate through procedurally generated maps, dodging enemies, pits, and collecting power-ups and items. The goal is to unlock videos and clues to outwit the YouTube Hacker.
Leaderboards: Players can compete globally, with high scores determined by distance and enemies stopped, fostering healthy competition.
Video Streaming Platform: Our CMS dashboard allows easy video uploads, which then go live for users to stream, ensuring fresh content for users at all times.
VIP Club: An exclusive subscription model for die-hard fans, offering premium content, and enhancing revenue streams.
Mobile App
The game was developed using the Unity Game Engine. We collaborated with multiple artists to design sprites for game characters, encompassing Rebecca, Matt, and various adversaries. Within Unity, we equipped the sprites with a skeletal rig, enabling independent animations for the limbs—this facilitated the distinctive running and jumping motions. For game collectibles, shaders were utilized to produce a glow effect, and we incorporated unique animations for power-ups.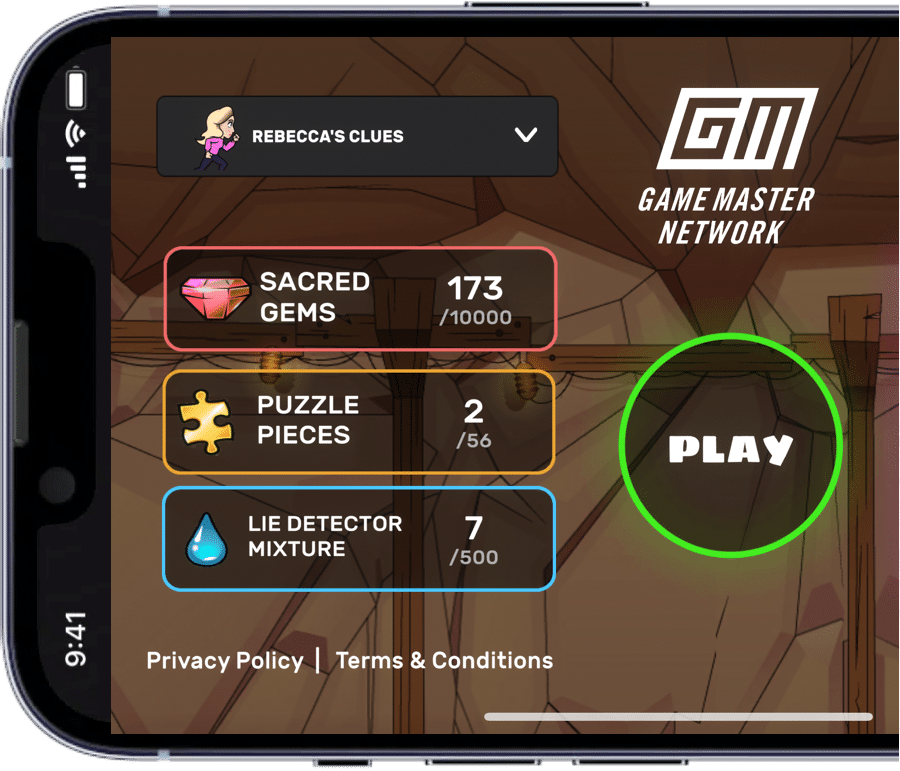 Conclusion
The unparalleled success of The Game Master Network app, highlighted by its monumental download numbers and sterling ratings across both major platforms, stands as a testament to the power of innovative collaborations. Our endeavor not only amplified the essence of Rebecca Zamolo and Matt Slays' vision but also showcased our commitment to delivering exceptional user experiences. In a world where digital platforms vie for user attention, our project for The Game Master Network emerges as a beacon of what's possible when creativity meets cutting-edge technology. We are proud to have set new benchmarks in the realm of digital entertainment, and we remain poised for even greater feats in the future.