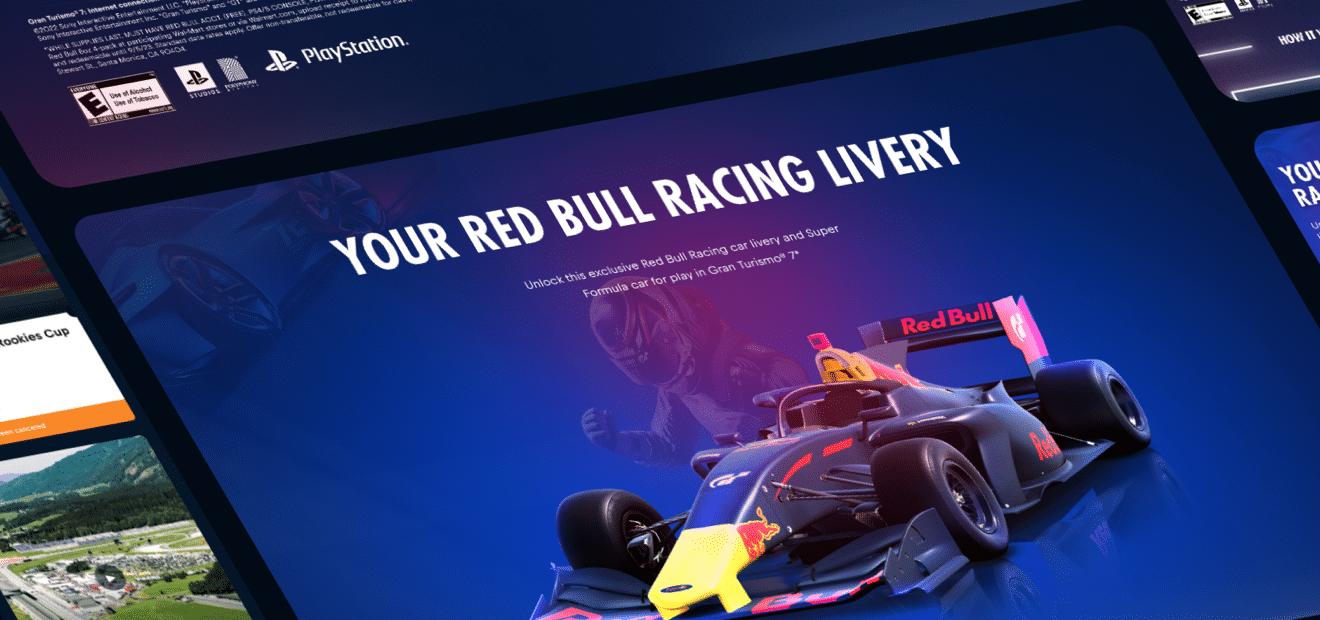 Frame Sixty, a leading mobile app development company, collaborated with Red Bull and Walmart to execute an innovative and engaging promotional campaign. The campaign aimed to drive sales of Red Bull products at Walmart stores and online while providing gamers with an exclusive in-game reward for Gran Turismo 7, a popular racing video game. The challenge was to seamlessly integrate the offline purchase of Red Bull products with the online gaming experience.
Frame Sixty's innovative approach to integrating offline purchases with online gaming experiences successfully achieved the campaign's objectives. By collaborating with Red Bull and Walmart, the company demonstrated its prowess in creating engaging cross-platform promotions that resonate with consumers and drive real-world results. The Gran Turismo 7 Red Bull Racing car livery promotion exemplified Frame Sixty's commitment to merging cutting-edge technology with creative marketing strategies.
Objective
The primary goal of the campaign was to boost Red Bull sales at Walmart and enhance the gaming experience of Gran Turismo 7 players by offering an exclusive Red Bull Racing car livery and other in-game features as a reward for purchasing Red Bull products.
Strategy
Frame Sixty devised a comprehensive strategy to bridge the gap between offline purchases and online gaming, ensuring a seamless user experience. The strategy involved multiple touchpoints, including Walmart stores, Walmart.com, and the Red Bull Gran Turismo 7 website.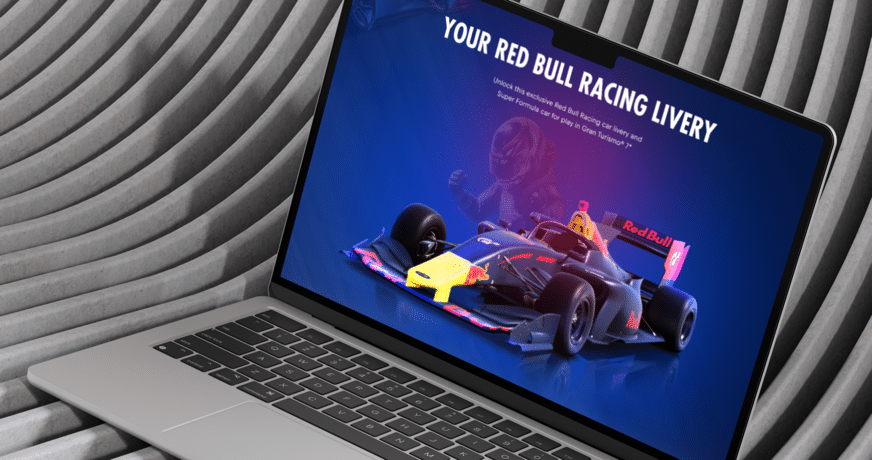 Execution
Purchase and Upload: Customers were encouraged to purchase any one (1) Red Bull 8oz 4-pack from participating Walmart stores or Walmart.com.
Receipt Verification: Customers then visited the redbull.com/granturismo7 website and uploaded their purchase receipt to verify their eligibility for the promotion.
Reward Redemption: Upon successful receipt verification, customers received a unique promo code that unlocked the exclusive Red Bull Racing car livery and supercar features for use in Gran Turismo 7. The reward was redeemable only on the PS4/5 versions of the game.
Promotion Period: The promotion ran until October 31, 2022, ensuring customers had ample time to make their purchases and redeem their in-game rewards.
Social Sharing: Customers were encouraged to share their experience on social media platforms such as Facebook, Instagram, and TikTok, thereby extending the campaign's reach and creating a buzz around the promotion.
Results
The collaboration between Frame Sixty, Red Bull, and Walmart yielded exceptional results:
Sales Boost: The campaign led to a significant increase in Red Bull sales at Walmart stores and online, surpassing the projected targets.
Engagement: Gamers showed heightened engagement with Gran Turismo 7 as they eagerly redeemed the exclusive in-game reward.
User Participation: Thousands of customers successfully uploaded their receipts, demonstrating the effectiveness of the seamless redemption process.
Social Impact: The social sharing component of the campaign amplified its reach, generating user-generated content and building excitement around the promotion.