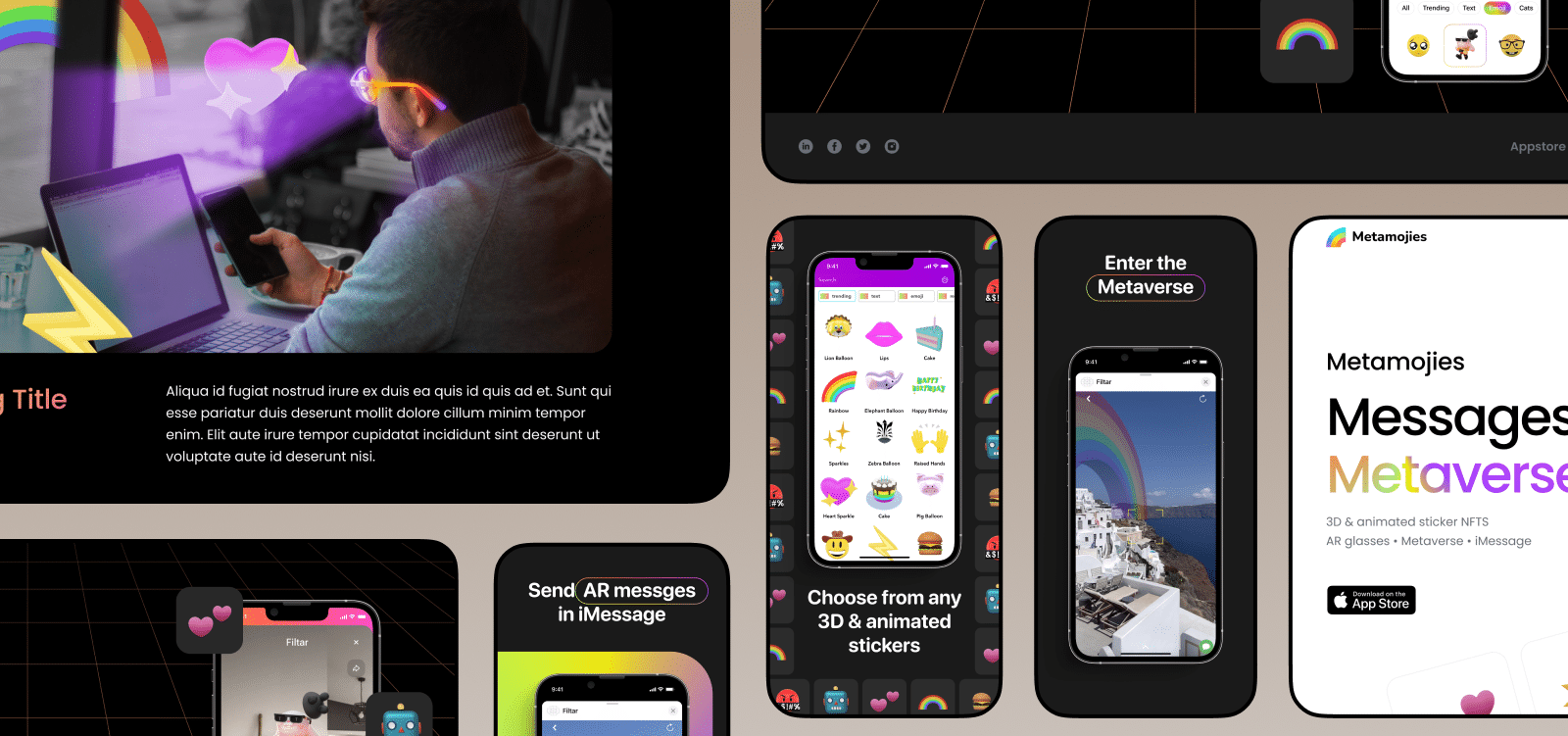 Send Augmented Realty animated stickers on iMessage! Embark on an unprecedented journey into the metaverse through groundbreaking technology. Witness the debut of augmented reality seamlessly integrated into iMessage. Unveiling support for diverse 3D model formats, NFTs, and animated GIFs, redefining communication like never before. Available on Apple VisionPro on VisionOS, spatial glasses and ARKit on iPhone.
SERVICES
iOS / Vision OS apps
CMS Dashboard
NFT Smart Contract
PLATFORM
AWS
iOS / Vision OS
Polygon
LANGUAGES / TOOLS
Swift, xCode, Reality Kit, AR Kit
Javascript, React
Solidity, ERC1155
Blender, Reality Composer
Our journey with Metamojies began with a bold vision: revolutionize messaging by seamlessly integrating augmented reality into iMessage. The result? An iOS app and an iMessage app, setting the stage for an unparalleled experience in digital communication.
Problem to Solve
The challenge was monumental – crafting an innovative augmented reality camera within iMessage, enabling users to send immersive 3D animations, animated GIFs, and augmented reality experiences to friends. The goal was to transform messages from static to dynamic, creating an interactive engagement that truly captivates.
Solution
We engineered a groundbreaking solution. The augmented reality camera we developed allowed users to send Metamojies, 3D animated stickers, via iMessage. Upon recipient interaction, an enthralling augmented reality experience would come to life. Through real-time streaming of augmented reality models from our server, the app brought animated messages to life instantaneously.
A CMS dashboard was created for efficient management. This allowed seamless upload of new animated AR messages, promptly populating the Metamojies app. The CMS further facilitated NFT minting – as each Metamojie was uploaded, a corresponding 3D model was minted using our NFT smart contract, enriching our catalog of animated experiences.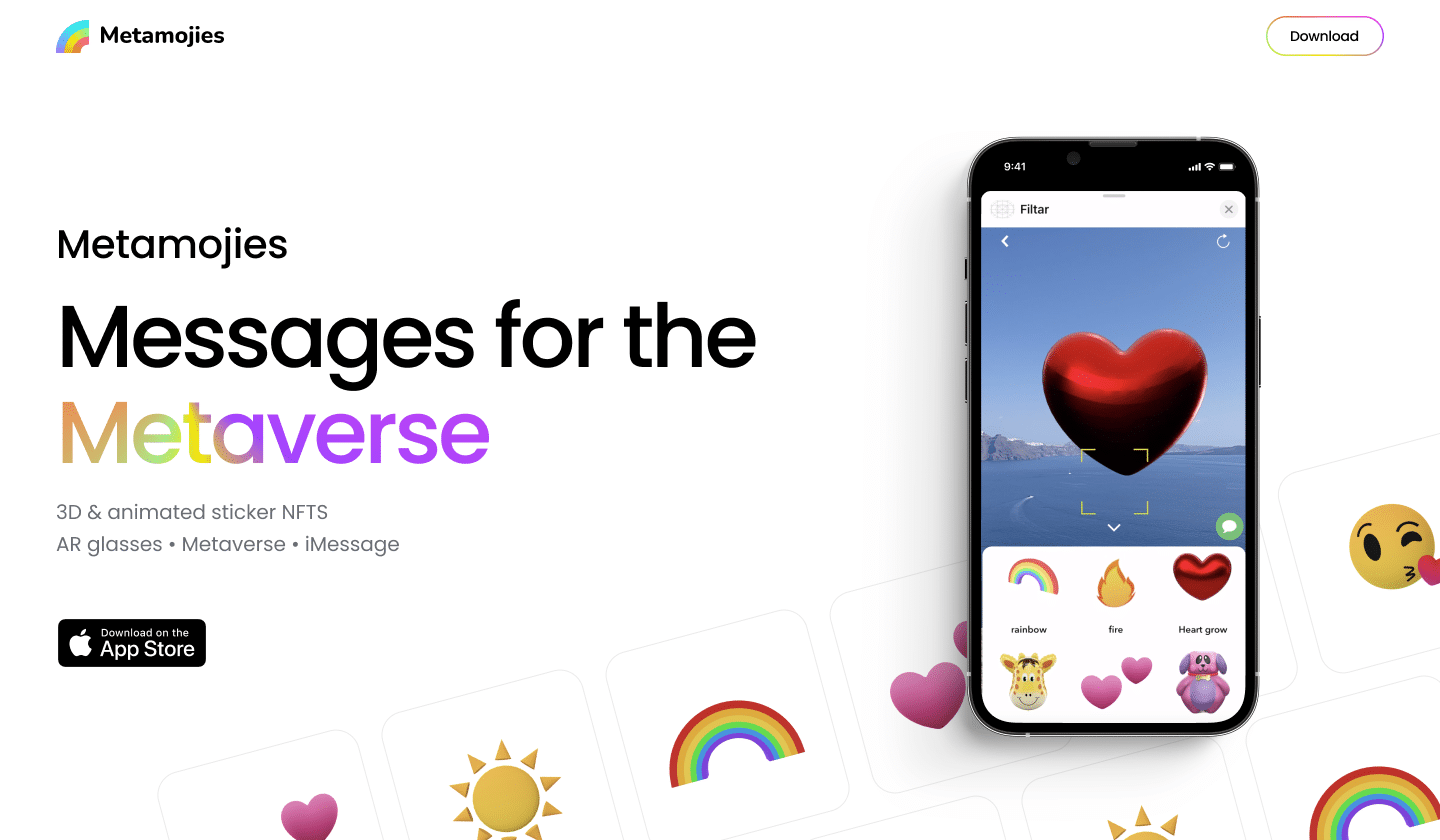 Key features
Metaverse Messenger
Experience the world of Metamojies: Dynamic 3D Animated AR Messages. Metamojies introduces an array of meticulously curated categories, allowing you to select the perfect 3D animated sticker to convey your sentiments to friends. Explore our expanding treasury of 3D AR stickers, each meticulously tagged for effortless discovery. Whether it's 3D animated augmented reality messages or 2D counterparts, our creations come to life using Apple's innovative Reality Composer and are brought to reality through the power of RealityKit.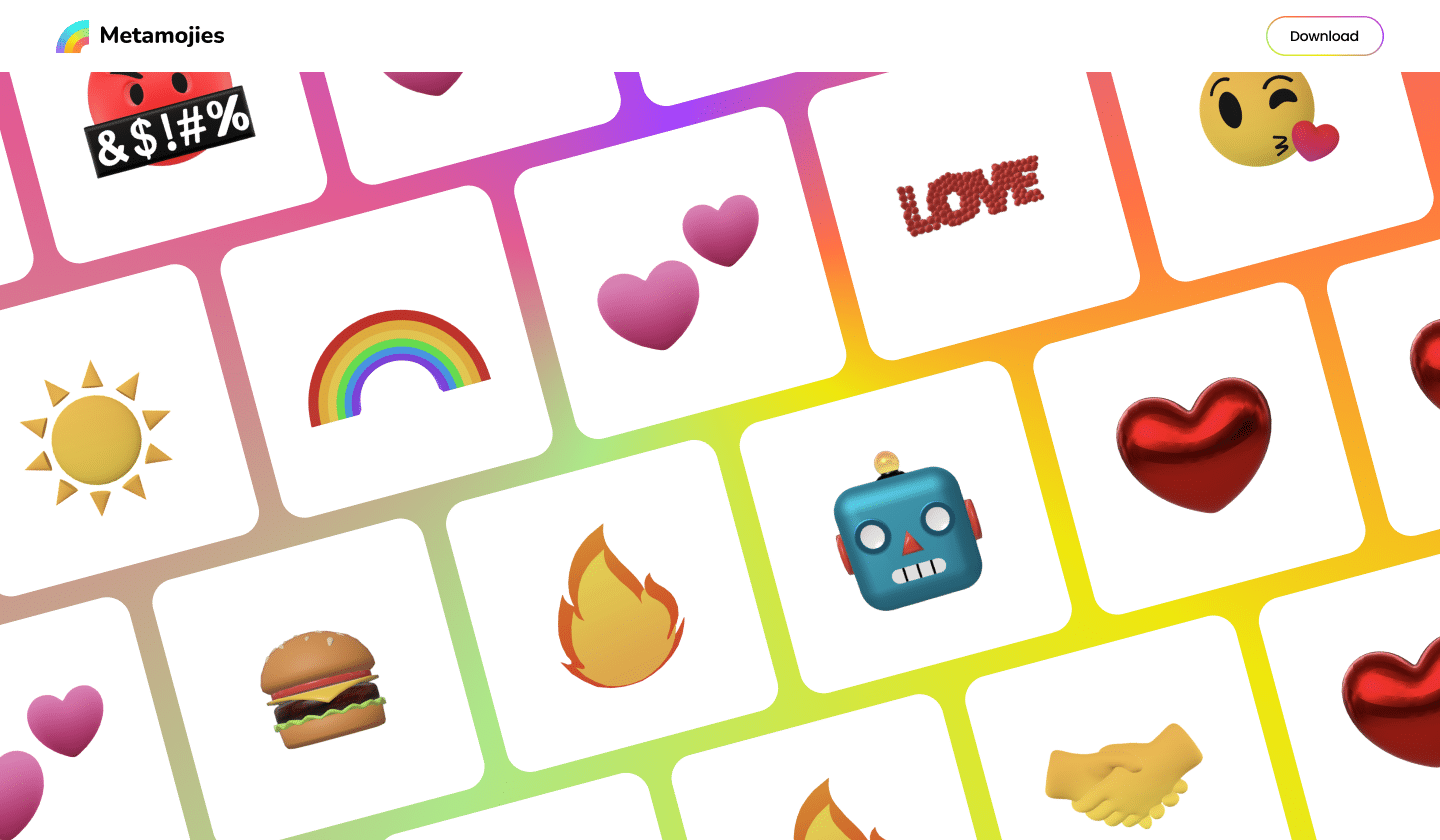 iMessage
Enter a new realm of communication with Metamojies – the pioneering AR messaging tool designed exclusively for iMessage. Effortlessly select a 3D animated sticker within iMessage and transmit your message in a captivating new format. Embark on a journey through the metaverse with this groundbreaking technology, marking the dawn of an unprecedented messaging experience.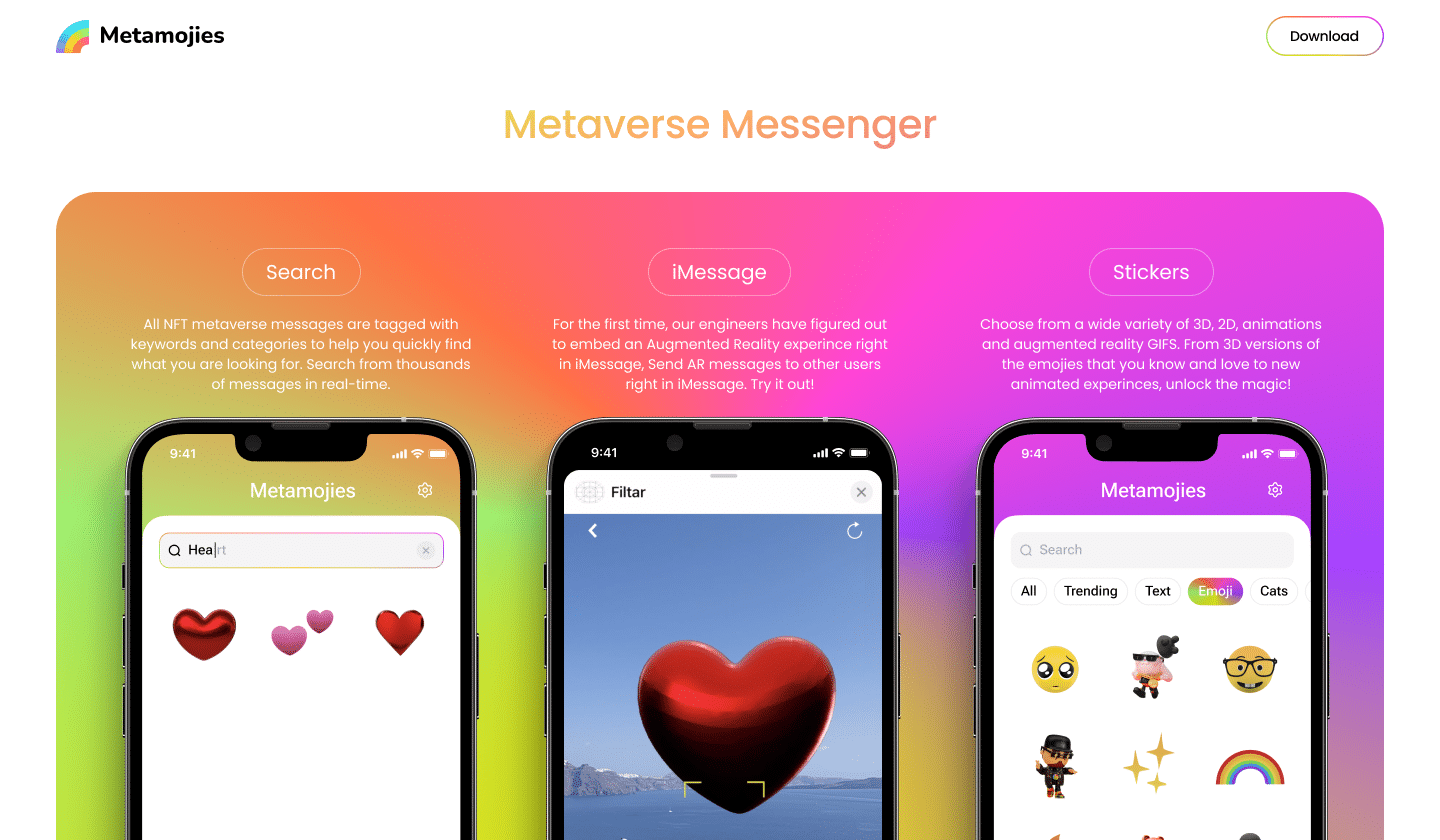 AR Glasses
Metamojies stands as the definitive messaging platform of tomorrow. From AR glasses to mixed reality headsets, you can effortlessly transmit 3D animated stickers through iMessage and other compatible messaging platforms. Currently under development for Apple VisionPro on VisionOS and Xreal Augmented Reality Glasses, Metamojies is poised to revolutionize the way we communicate in the world of augmented reality.
Unlock Magic!
Download Metamojies from the iOS app store and embark on an augmented reality journey. Soon available for Apple Vision Pro on VisionOS and Xreal Spatial glasses, this extraordinary fusion of metaverse, art, and cutting-edge technology opens unprecedented communication horizons. Brace for a transformative experience that seamlessly intertwines the virtual and real, revolutionizing how we connect.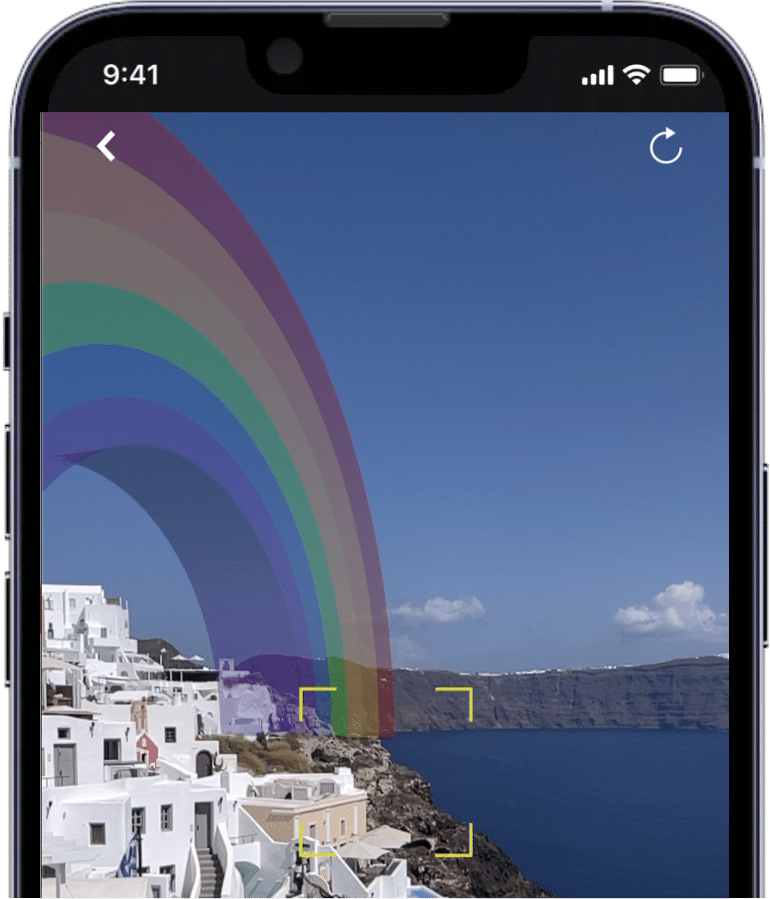 Conclusion
Metamojies successfully bridged the gap between traditional messaging and augmented reality. The app's core features, including a diverse array of 3D animated AR messages, revolutionized digital expression. The integration with iMessage marked a significant leap into the metaverse, enabling users to send captivating augmented reality messages. As we continue to evolve, we are working on expanding the platform to AR glasses and mixed reality headsets, setting the stage for a new era in messaging experiences. Metamojies is not just a messaging tool; it's a glimpse into the future of communication.